Kindle Worlds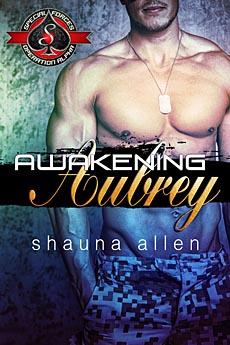 Awakening Aubrey:
First love has never been so perfect . . . or so dangerous.
Jude Cortez is a proud soldier, a warrior who protects what he believes in and will fight to the death for what he wants. No Regrets is his life motto. Just as he's embarking on the biggest mission of his life, he finds the one girl who's worth giving it all up for . . .
Aubrey Clemson is a proud tomboy, a fighter who will do anything to make her dreams come true. Life is to be lived and tasted and savored, and she wants it all.
In an unexpected twist of fate, she's brought along on a work trip that turns into the ride of her life. When love at first sight turns into sexy nights, hard choices, and a life or death mission, will Jude and Aubrey fight for each other or let their future die?
***Awakening Aubrey is part of Susan Stoker's Special Ops: Operation Alpha World where her smokin' hot Delta Force guys meet up with my sizzling blue collar heroes. Let the fun begin!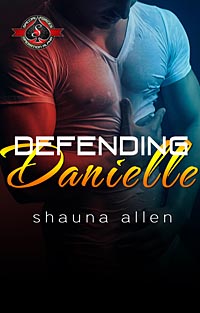 Defending Danielle:
Drew "Red" Harrison is a man on a mission.
As part of an elite United States Marine Corps Force Reconnaissance team, he's done it all—covert intelligence gathering, national security threat elimination, Black Ops. But when their most recent mission goes bad, Drew and his team are brought back stateside to run security detail for Virginia senator George Lytle when the Mexican drug cartel that kidnapped his daughter threatens retaliation.
The last thing Drew wants is to be pulled from an Op to babysit a pretentious senator and his spoiled daughter, but he is prepared to do his job. The only upside is getting to see his old friend, Cookie, as he and his team of Navy SEALs are honored at a benefit gala for rescuing the senator's daughter.
Little does Drew know that the threats are viable, and not only are he and both teams about to face down a drug lord hell bent on revenge, but his past is about to catch up with him when Senator Lytle's intern is none other than Danielle Jackson, the awkward girl who crushed on him in high school as she tutored him in physics . . . only the ugly little duckling has blossomed into a smokin' hot swan.
As sparks ignite between them, Drew suddenly has no idea who's more dangerous—the ruthless drug lord he's trained his whole career to face, or the sexy blast from his past he could've never prepared for, but would now die to protect.